High Lonesome Ranch
These Shops and buildings are used as guest rooms for small corporate meetings, retreats, specialized groups, etc. Day tours of village and guided tours of ranch are conducted for groups – historical and agritours highlighting early Texas living. All guests stay in our Lonesome Dove Village. Specially designed, built and furnished to recreate the Western setting of early frontier days, Lonesome Dove Village will provide the very comfortable, well appointed guest accommodations and hearty meals you'll want after a full day.
With its authentic furnishings and antique artifacts, Lonesome Dove Village incorporates our outstanding recreation, dining, meeting and sleeping facilities within our "town" Saloon, Movie House, Barber Shop, Post Office, General Store, School House, Sheriff's Office, Chapel, Hotel, Boot & Hat Shop, Saddle Shop, Wells Fargo Express Office and even a Jail! and Chapel! We have personally dedicated years of detailed attention to the design and completion of Lonesome Dove Village… just to be sure you are totally delighted with your time on our Ranch!
Check out our Gallery!
Contact Us!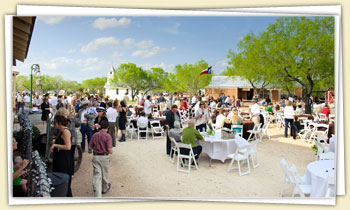 Type of Events:
Corporate Meetings
Retreats
Weddings
Group Day Tours / luncheons
Agri-tours / water conservation /
bat cave (new – no bats yet)
Land Stewardship tours
Educational School Field Trips
Holiday Parties/dinners
Bird Watchers
Hunting Packages
Rooms
Guest Rooms – 16 rooms in village situated in village shops and buildings, decorated with appropriate antiques.
Hotel
School House
Wells Fargo Express Office
Post Office
General Store
Jail
Boot & Hat Shop
Saddle Shop
Restaurant
Saloon
Livery Stable
Church
Emporium
Pool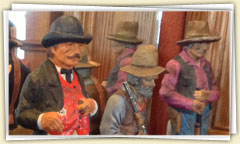 High Lonesome Ranch Hunting
Many of our customers enjoy superb South Texas fishing at High Lonesome Ranch, both during and outside hunting months! You'll find over 40 tanks and lakes well stocked in one of America's most popular sport fish, the Florida Cross Largemouth Black Bass, along with abundant Channel Catfish.
Along with superb deer hunts, we offer wild hog, dove, quail, turkey, varmint and duck hunts, coupled with an absolutely awesome bass fishing experience in 40+ tanks and lakes! We also offer outstanding Dove hunting on 4300 acres of ranch land with over 40 tanks and lakes, plus large fields of the mixed grasses Doves love.
Check out our Hunting Site!